ABOUT FOREVER LAZY
Forever Lazy was founded in 2009 in response to our disappointment in not being able to find a quality adult one piece pajama. The onesies we ordered didn't fit right, were made of cheap fabric, and had poorly functioning drop seats and pockets. So we thought to ourselves, "This is a perfect opportunity to work for ourselves and to make our work our passion - laziness and comfort."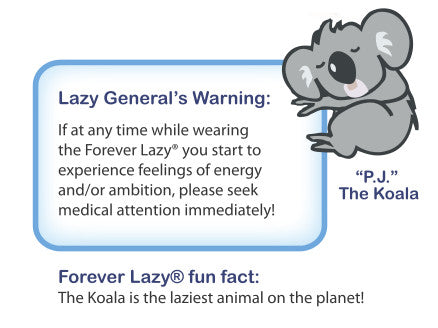 In late 2010, Forever Lazy formed a partnership with an infomercial company, which allowed us to bring adult onesie awareness to the masses. By 2011, we had placement in nearly every major retailer in the US and our product appeared on The Today Show, Late Night with Conan O'Brien, The Tonight Show with Jay Leno, The Colbert Report, Chelsea Lately, CNN, Fox News, and many more. We have sold over 1 million onesies to date, and we are just getting started. Our focus is on providing an awesome customer service experience. If anybody has a question/concern they can talk to the owners themselves to make sure they are taken care of! We understand there is nothing more frustrating than getting stuck on the phone with a call center representative who either can't or won't make sure every Forever Lazy shopping experience is a positive one.
We are consistently coming out with new designs, prints, and other lazy loungewear products. We always welcome Corporate and Wholesale opportunities. We love to hear from all our customers, so contact us and we will do our best to accommodate you!
-The Forever Lazy Team